Towards Spin-Preserving, Heterogeneous Spin Networks
Spin electronics offers a new generation of devices that exploit the spin degree-of-freedom of the electron as an alternate state variable for information processing and computation. This capability will be based on thorough understanding of and control over the behavior of electronic spin in heterogeneous structures.
In IRG-1 integrated expertise is being used in the synthesis of organic, carbon-based and silicon-based spin-preserving materials (attractive for their reduced spin-orbit and hyperfine interactions), materials design and synthesis, and spin electronics device design and characterization. A unique cluster of materials-generic spin, charge, and structural microscopies is utilized to understand these systems, including scanned probe spin microscopy and spin-sensitive scanning tunneling microscopy (STM) to study spin injection contacts assembled with atomic precision. Combined with analytical and numerical modeling of heterogeneous and low-dimensional spin systems, this approach is providing essential insight into these materials systems. These three interlocking capabilities, materials, microscopy, and modeling, provide the critical breadth and depth of expertise required to move beyond state-of-the-art investigations of single devices to lay the foundation for fully integrated spin network architectures.
IRG-1 Highlights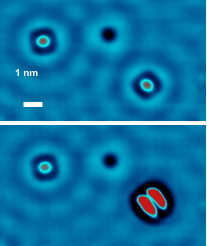 CEM researchers seek to understand the origins of magnetism in organic materials by studying single molecules on surfaces using a scanning tunneling microscope (STM). By applying a voltage pulse with the STM tip, the group finds that a single molecule can be reversibly switched among five states on a copper surface. The d-state of the molecule is magnetic, while the other states are not. This kind of multistability may enable new paradigms for massively parallel computing on the nanoscale using organic materials.
Highlight: A Single Molecule Magnetic Switch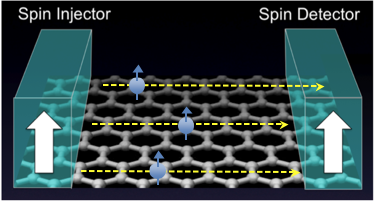 CEM researchers have successfully fabricated graphene spin valves with ultrathin magnesium oxide (MgO) tunnel barriers, which result in the largest non-local spin transport signal (130 Ω) ever reported in graphene or any other material at room temperature (previous record is 0.017 Ω in GaAs, but at -223° C). This breakthrough enables the development of a graphene spin computer.
Highlight: World Record Performance of Graphene Spin Valves
Graduate Student Journal Papers
IRG-1 Faculty
Affiliate Faculty member: Julia S. Meyer, Assistant Professor, Department of Physics (On leave)