Double Perovskite Interfaces and Heterostructures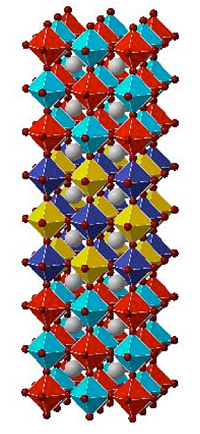 A2BB′O6 double perovskites (DPs) are the central focus of IRG-2 activities, particularly half-metallic DPs, such as Sr2FeMoO6 (SFMO).  The promise of injecting carriers with a high degree of spin polarization makes half-metals attractive components in nearly all spintronic devices.  Unfortunately the list of materials that exhibit (a) a half-metallic band structure, (b) a Curie temperature, Tc, well above room temperature, and (c) metallic conductivity is restricted largely to two families of compounds: double perovskites and Heusler alloys.  The use of these compounds in spintronic devices has been limited by the fact that both families are chemically complex which makes them prone to non-stoichiometry and chemical disorder.  The research goals of IRG-2 are to (i) elucidate the fundamental physics that govern the properties of DPs, (ii) understand how non-stoichiometry and defects impact their magnetic and magnetotransport properties, (iii) develop routes to stoichiometric, highly ordered eptiaxial films, (iv) look for novel properties in bulk DPs, and (v) explore the properties of DP interfaces and heterostructures.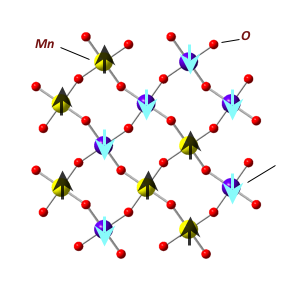 IRG-2 Highlights
CEM researchers have discovered new magnetic properties in Ca2MnRuO6, where the Mn and Ru ions order ferrimagnetically at room temperature, despite the fact that they are randomly distributed in the lattice. Furthermore, through chemical substitution (La3+ for Ca2+) the conductivity can be tuned from metallic to semiconducting while retaining the ferrimagnetism. Understanding this unique behavior may hold important clues for magnetism and half-metallic transport in the broader class of double perovskites.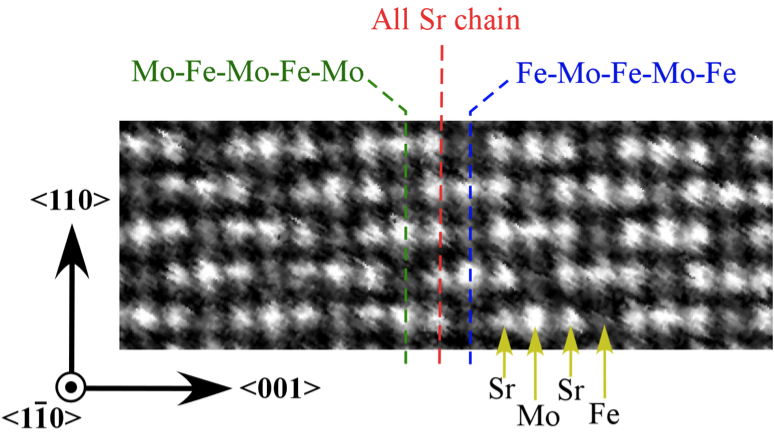 Ordered double perovskites, such as Sr2FeMoO6, are among the very few materials that allow electrons of one spin direction to move through them as though they were passing through a normal metal, while blocking electrons of the opposite spin.  Materials that behave this way at room temperature are even more exotic.
To unlock the potential of Sr2FeMoO6 it is essential to deposit films where the iron (Fe) and molybdenum (Mo) ions are highly ordered and the formation of unwanted phases is suppressed. CEM researchers have been able to deposit highly ordered, single crystalline films of Sr2FeMoO6 that retain their magnetism to temperatures over 227°C.
IRG-2 Faculty
Leonard J. Brillson, Professor and CMR Scholar, Department of Electrical & Computer Engineering (Co-leader)
Patrick M. Woodward, Professor, Department of Chemistry (Co-leader)
Hamish L. Fraser, Professor and Ohio Regents Eminent Scholar, Department of Materials Science and Engineering
Thomas R. Lemberger, Professor, Department of Physics
Patricia A. Morris, Associate Professor, Department of Materials Science and Engineering
Mohit Randeria, Professor, Department of Physics
Nandini Trivedi, Professor, Department of Physics
Wolfgang Windl, Associate Professor, Department of Materials Science and Engineering
Fengyuan Yang, Associate Professor, Department of Physics