The Center for Emergent Materials engages researchers from multiple disciplines to work in teams on scientific problems too complex for a single researcher to solve. The CEM, established in 2008, is located at The Ohio State University and funded by a National Science Foundation MRSEC award.
---
FEATURED RESEARCH
Giant spin-splitting and gap renormalization driven by trions in single-layer WS2/h-BN heterostructures
1/29/18
In a study published Jan. 22 in the journal Nature Physics, researchers zeroed in on signatures of exotic behavior of electrons in a 2-D material with microscale resolution.
Read the press release here.
---
FEATURED Event

2017-2018 CEM Alumni Career Series
The Alumni Career Series is coming back for its second year!
Is graduation on the horizon? Where will your degree take you? Learn more about diverse career paths in the STEM disciplines from Ohio State alumni working in industry, national labs, government research, science policy and other career paths. Each semester, Ohio State alumni will share their career-related experiences and provide you with tips and advice on landing that perfect job.
The goal of the Alumni Career Series is to broaden the student body's understanding of diverse career paths, provide students and alumni valuable opportunities to network, and maintain strong relationships with our alumni.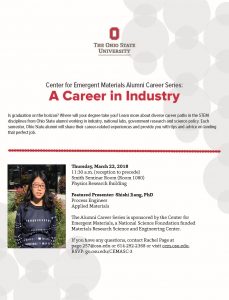 Upcoming Alumna:
Dr. Shishi Jiang
Process Engineer, Applied Materials
March 22, 2018
Students interested in attending a luncheon with the speaker should contact Rachel Page(.257)
RSVP: https://osu.az1.qualtrics.com/jfe/form/SV_2lQZ7GlOuxoFKyp