The Center for Emergent Materials engages researchers from multiple disciplines to work in teams on scientific problems too complex for a single researcher to solve. The CEM, established in 2008, is located at The Ohio State University and funded by a National Science Foundation MRSEC award.
---
FEATURED 
Center for Emergent Materials REU Student, Jill Belluomini, Receives Prestigious Award at Northern Illinois University
Jill Belluomini, a Summer 2020 CEM REU student, was recently granted the Lincoln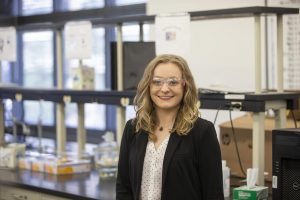 Laureate Award. This award is given to an outstanding senior from each of Illinois' four-year universities for excellence in both curricular and extracurricular activities. Jill is a chemistry major and dance minor at Northern Illinois University. An article detailing this accomplishment can be viewed here.
Center for Emergent Materials awarded $18 Million NSF Grant to Support High-Impact, Cutting-Edge Science
The National Science Foundation (NSF) announced that the Center for Emergent Materials (CEM) at The Ohio State University has been awarded Materials Research Science and Engineering Center (MRSEC) funding for the third time since 2008. This $18 million, six-year grant will fund transformative science and complex materials discovery by two multidisciplinary, collaborative groups of researchers and includes funding to help ease entry into science from underrepresented groups.
"We are excited to have won this highly prized funding because it enables scientists to undertake complex and transformative projects at the scientific frontiers, and provides sustained support for diverse teams to collaboratively synthesize new understanding and open new research topics," said P. Chris Hammel, Ohio Eminent Scholar, physics professor and director of the Center for Emergent Materials.
After an intense and highly competitive process, 11 MRSECs were funded for this cycle, bringing the nationwide total to 19. A flagship initiative for NSF, the MRSEC program funds research at the cutting-edge of scientific discovery by enabling teams of researchers to tackle scientific problems that are too large and complex for one person or one group to make an impact. These teams, called Interdisciplinary Research Groups (IRGs), are made up of a diverse group of faculty, their students and postdoctoral researchers.