Columbus State Community College Research Program
Academic Year research at The Ohio State University                                                 Center for Emergent Materials: an NSF MRSEC.
Please apply by the  First Monday in October (October 3, 2022).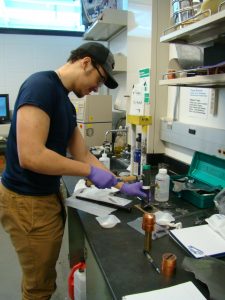 The NSF-funded CSCC Research Internship program involves a wide range of research projects where students will learn to address scientific issues including:
Integrating materials synthesis and growth, characterization, novel probe development and theory
Modeling in order to enhance computation technology
Improving energy efficiency through discovery of new materials, novel phases of matter and innovative spin science.
In this research experience students will come to OSU and be paired with a faculty mentor and a graduate student from a core CEM department (Physics, Materials Science & Engineering, Electrical & Computer Engineering, & Chemistry) and will perform experimental research projects aligned with CEM focal areas.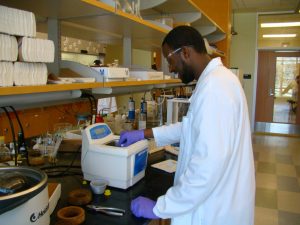 Students will be expected to work at least 8 hrs per week during regular class weeks through the spring semester.  A stipend of $750 for the fall semester and $1,250 for the spring semester will be provided. Students will also be expected to present a poster and give an oral presentation at the end of the academic year.
---
Application
For first consideration, please submit applications by the First Monday in October.
Fill out the application here.  Before starting, please have responses prepared for the following two questions:
a. "Which faculty labs would you like to work in?"
b. "Please describe your career goals and how the REU experience with the Center for Emergent Materials would be meaningful to you:"
In addition to completing the online survey, please email the following documents to 
cscc-research@osu.edu
:
Unofficial Transcript
Resume
One letter of recommendation
The letter of recommendation should be 
brief
 and from a faculty member that knows you well and can ideally speak to your abilities to work in a research laboratory. The faculty member can email the letter directly to 
cscc-research@osu.edu
.
Right of Access to Letter of Recommendation
While not required for a complete application, some referees may ask that you waive your right to view your letter of recommendation. If your referees make this request, please download and attach this form to your application.
Eligibility Requirements
US citizen or permanent resident enrolled in an undergraduate degree program in physics, materials science, chemistry, or electrical/computer engineering. Members of groups under-represented in engineering or physical sciences are especially encouraged to apply.
OSU and CEM are committed to the full inclusion of individuals with disabilities.  The ADA Coordinator's Office is a resource and referral point for disability related information, services and resources.  You may view their website at http://ada.osu.edu; email them at ada-osu@osu.edu with any questions.
Questions
Contact Michelle Richard (cscc-research@osu.edu).
This announcement is available as a flyer. Please feel free to forward it to any interested students or applicable programs.